Modular Drum by Plusculaar is the new samples pack hosting a collection of 15 unique beats, the power of analog gear and special touch of Romanian underground sound, makeing these a must have. Sparking rythms with the special feeling of minimal, fusible with any exmperimental or classic style's. In this pack is all about beats, no bass or melodics included, pure groove signed by Plusculaar, with the wish of sharing and growing together into this wonderfull world of music. Loops and one-shot all files wav.
MODULAR DRUM – SAMPLES PACK
For this audio demo i used 6 beats, two of each bpm!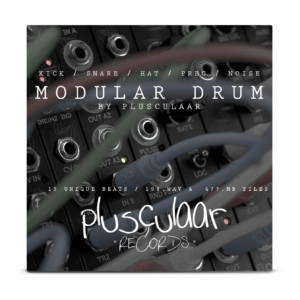 LOOPS :

 Full Beats / HiHat / Kick / Noise / Perc / Shaker / Snare

ONE-SHOT :

HiHat / Kick / Noise / Perc / Shaker / Snare

477 mb. & 198.wav files

BPM: 121 / 123 / 125

Audio Demo

Cover
Modular Drum by Plusculaar = 54 € 
*Note: after payment you will get 2 emails of confirmation, one from paypal, and one from plusculaar.com with download link! In case you miss the email feel free to contact me and it will all be sort out, Thank you!
useful tips: These sounds are created with 432Hz (tone frequency) .. from the standard 440Hz,
change yours for best quality!