Main Room.
Bloodwaxx Launches officially with the Bloodwaxx residents: Albo
Josh Holdsworth
Raf Rodriguez.
Paul Deepnlow Moore joins us in the main room with his impeccable taste and track selection alongside our headliner Plusculaar bringing his intelligent, forward thinking sophisticated blend of Romanian House and Techno.
For those in the know Plusculaar and his fellow Romanian DJs and producers have raised the bar concerning House 
and Techno.
Plusculaar has been on the cutting edge scene of all things House and Techno regarding what is known as the Rominimal sound.
From his native land to Ibiza to France Germany and the world over blessing all who have the chance to witness him in action behind the decks.
Plusculaar is also a prolific producer who has released on more labels that we could mention not forgetting his own Binaural Arts record label and sample 
packs label.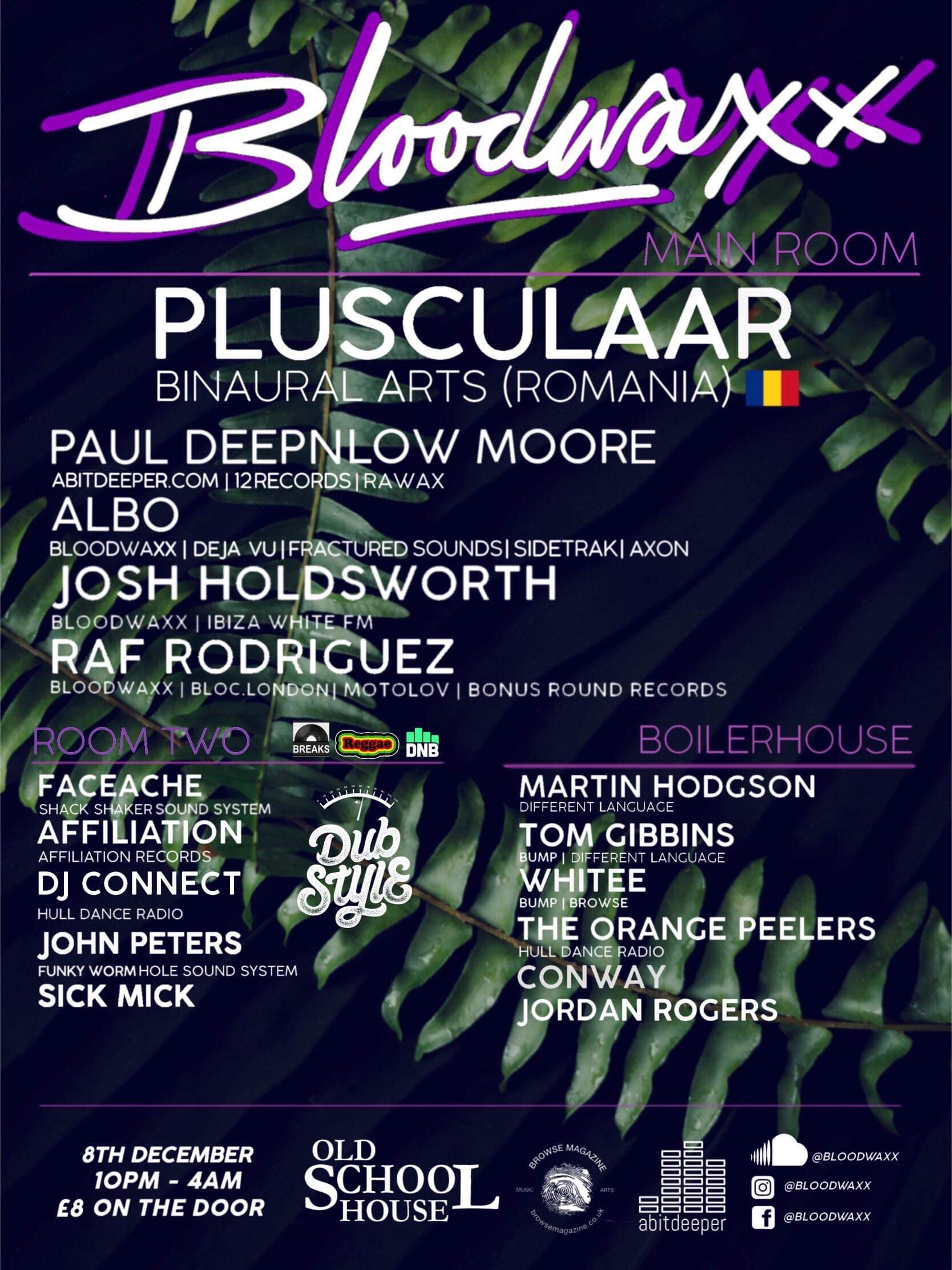 So along with the stripped back House and Techno that Bloodwaxx favours expected to blown away by the Rominimal vibes of Plusculaar in the 
main room. 
Room 2.
We have some of Hulls finest true players rolling out some amazing Jungle and some rolling 
Drum and Bass by none other than 
Faceache.
Sick Mick.
John Peters.
Affilliation.
And
DJ Connect. 
BoilerHouse.
We also have in the Boilerhouse some home grown talent from 
Jordan Rogers. Conway.
The Orange Peelers. Whitee. 
And to top it off 
Tom Gibbins and Martin Hodgers from Different Langauge dropping some 
Deep and 
Tech House.
So expect nothing but high grade superlative music and quality track selection
pumped trough a void sound system in a fantasict venue with the best party people.