"SOUNDS LIKE PLUSCULAAR"
So proud to announce first Samples Pack with Plusculaar signature! Romanian Techno
These royalty-free samples and loops are perfect for a beginner producer as much as for the pro one,
with influences from Romanian Techno & House to weird Minimal, Electronica and Microhouse,
all written with his special touch, each sound been tuned into a new level of quality so the
analog sound and modular synths used to make a different dimension of sound and feeling,
are just right. Because electronic club music moved into a spiritual area as well for most of us,
it was a total "must do" for Plusculaar.
This samples pack offer: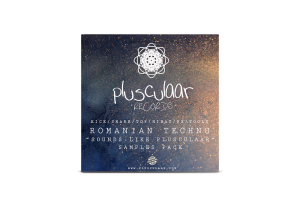 files: 116Wav loops // size: 271MB // bpm: 121 – 123
incl. loops: Bass / Beat / FX & Tool / HiHat / Kick / Music / Perc & Drum / Snare & Clap / Top
incl. genres: Minimal / Techno / Dub / Microhouse / Deep / Tech-house / Electronica
*Note: after payment you will get 2 emails of confirmation, one from paypal, and one from plusculaar.com with download link! In case you miss the email feel free to contact me and it will all be sort out, Thank you!
Each folder contain a minimum of 10 loops, but mostly some more,
from complete beats that are just like a construction kit, to individual loops of each sound,
there are infinite possibilities of creation with these sounds, its been a long journey from Plusculaar
to get this far and learn how to write his feelings with sounds, and now is time to share his work and
love with all of you, enjoy!
useful tips: These sounds are created with 432Hz (tone frequency) .. from the standard 440Hz,
change yours for best quality!